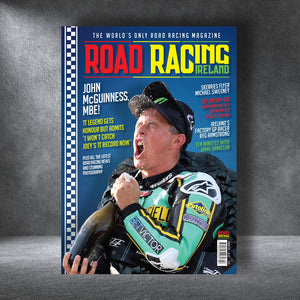 Road Racing Ireland
RRI February 2021
Regular price
£4.95
£0.00
Unit price
per
Tax included.
Shipping
calculated at checkout.
Welcome to the new look February 2021 issue of Road Racing Ireland. We've given the masthead a new design and we've re-imagined the pages inside as well. With superb features, insights, interviews and much more, complemented with stunning photography your Road Racing Ireland magazine is even better than ever before. It's no wonder we are the ONLY Road Racing magazine in the World.
Inside this month's issue:
Paddock Gossip
McGuinness Gets His Gong
Skerries Flyer: Michael Sweeney
Ten minutes with Jamie Hamilton
The Italian Job
World MotoGP Champion Joan Mir's Irish Connection - Graeme Irvine
McAdoo breakthrough for Darryl Tweed
Last Chance Saloon for Eugene Laverty?
Reg Armstrong - Ireland's Grand Prix Factory Racer
--
[et_pb_section fb_built="1" _builder_version="3.22" custom_padding="0px||||false|false" global_module="396"][et_pb_row _builder_version="3.25" background_size="initial" background_position="top_left" background_repeat="repeat" width="100%" custom_padding="0px||0px||false|false"][et_pb_column type="4_4" _builder_version="3.25" custom_padding="|||" custom_padding__hover="|||"][et_pb_wc_breadcrumb _builder_version="4.0.4" body_font="Roboto|700|||||||"][/et_pb_wc_breadcrumb][et_pb_wc_cart_notice _builder_version="4.0.4" body_font="Roboto|700|||||||"][/et_pb_wc_cart_notice][/et_pb_column][/et_pb_row][et_pb_row column_structure="1_2,1_2" _builder_version="3.25" background_size="initial" background_position="top_left" background_repeat="repeat" width="100%" custom_padding="0px||||false|false"][et_pb_column type="1_2" _builder_version="3.25" custom_padding="|||" custom_padding__hover="|||"][et_pb_wc_images _builder_version="3.0.47"][/et_pb_wc_images][/et_pb_column][et_pb_column type="1_2" _builder_version="3.25" custom_padding="|||" custom_padding__hover="|||"][et_pb_wc_title _builder_version="4.0.4" header_font="Roboto Condensed|700|||||||" header_font_size="36px"][/et_pb_wc_title][et_pb_wc_rating _builder_version="3.0.47"][/et_pb_wc_rating][et_pb_wc_price _builder_version="4.0.4" body_font="Roboto Condensed||||||||" body_text_color="#7cda24" body_font_size="30px"][/et_pb_wc_price][et_pb_wc_description _builder_version="4.0.4" body_font="Roboto||||||||"][/et_pb_wc_description][et_pb_wc_add_to_cart _builder_version="4.0.4" custom_button="on" button_text_color="#ffffff" button_bg_color="#7cda24" button_font="Roboto||||||||"][/et_pb_wc_add_to_cart][et_pb_wc_meta _builder_version="3.0.47"][/et_pb_wc_meta][/et_pb_column][/et_pb_row][et_pb_row _builder_version="3.25" background_size="initial" background_position="top_left" background_repeat="repeat" width="100%"][et_pb_column type="4_4" _builder_version="3.25" custom_padding="|||" custom_padding__hover="|||"][et_pb_wc_tabs _builder_version="3.0.47"] [/et_pb_wc_tabs][et_pb_wc_related_products columns_number="4" orderby="popularity" _builder_version="4.0.4" title_font="Roboto|700|||||||" title_text_color="#7cda24" title_font_size="24px" product_title_font="Roboto Condensed|700|||||||" product_title_font_size="20px" price_font="Roboto Condensed|700|||||||" price_text_color="#7cda24"][/et_pb_wc_related_products][/et_pb_column][/et_pb_row][/et_pb_section]
---