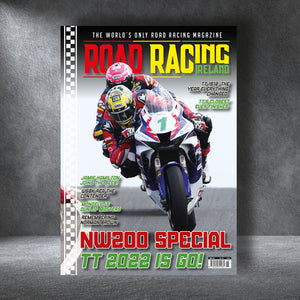 Road Racing Ireland
RRI June 2022
Regular price
$7.00
$0.00
Unit price
per
Tax included.
Shipping
calculated at checkout.
Inside this issue:
In scenes reminiscent of the Seventies and Eighties, huge crowds lined the 8.9 mile Triangle circuit for the 2022 fonaCAB and Nicholl Oils North West 200 as racing returned to the north coast for the first time since 2019 ON a sun drenched Saturday. Read our review.
When the BBC Comes Calling: Jamie Hamilton's last memory of the North West 200 as a racer was standing alongside Ryan Farquhar and Jeremy McWilliams on the podium in 2015. Just a fortnight later his life was turned upside down at the Isle of Man TT.
NW200'S European delegation make their mark!
Remembering a true great: Norman Brown memorial unveiled
Closest TT finishes: Despite the TT's Mountain course being 37 ¾ miles long and the races lasting close to two hours over more than a hundred miles, it has produced some unbelievably close finishes down the years. RRI's Phil Wain looks at the ten tightest dashes to the chequered flag.
Ten Minutes with Conor Cummins
Rear View Mirror: 50 years ago this June, RRI's Rowland White visited the Isle of Man to witness a TT that would have a major impact upon the event's future.
Plus Paddock Gossip, BSB, World Superbikes, MotoGP and much more.

---